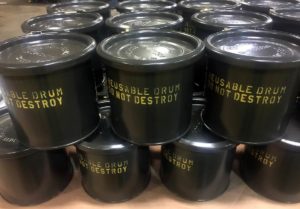 The 55-gallon drum has been the essential standard sized container for metal packaging.  Our square drum, or Squarrel, permits storage efficiencies well beyond those of the conventional 55-gallon drum.  Our 71-gallon Squarrel occupies the same footprint as the traditional 55-gallon drum.  Squarrels are available with open or tight head construction and a full array of ports, handles, indicators, colors, fittings, markings and other features.
Additional capacity for overcrowded or high-cost storage areas
Reduced freight costs with more capacity per pallet
Eco-friendly through reduction of carbon emissions during shipping and packaging waste.
Square Drums - Squarrels
Request more information. 
If you would like a more detailed quote please fill out our Request a Quote form. Or, call (330) 723-6000.