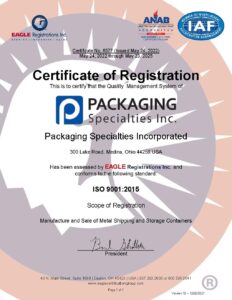 Packaging Specialties, Inc. is proud to announce that we have been awarded ISO 9001:2015 certification.  This accreditation followed an extensive audit of our quality management systems.  We were found to be in compliance with the requirements of the International Standardization Organization (ISO).  The ISO 9001 qualification process required Packaging Specialties to demonstrate that our quality management system will consistently provide products that meet customer and statutory requirements.
Our ISO 9001:2015 certification validates our commitment to continual improvement in service to our customers and conformity to customer and regulatory requirements.  Together with our 95%+ on-time delivery, our commitment to quality is another way we focus on customer satisfaction.
For over 60 years, Packaging Specialties has been the best value for high-quality, high-performance shipping and storage drums. We produce custom solutions for unique packaging requirements and drums that must meet rigorous statutory requirements.  All of our containers are proudly made and tested in the USA in our Medina, Ohio facility.