Salvage Drums and Overpack Drums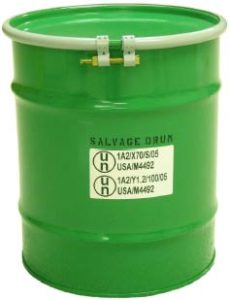 Metal Drums used for storage and transportation of hazardous materials or environmental contaminants are subject to oversight by many regulatory agencies.  Whether you need drums for original packaging or to contain a damaged or leaking drum, we have a tough and durable solution for you. PSI salvage drums can be tested and certified as passing 49 CFR requirements for UN or DOT 7A Type A.  (
What are these ratings?
).  We can supply in diameters from five inches to forty-eight inches or more and in height from just under five inches to ten feet or more.  Available options include inside or outside lever lock rings or bolt closure rings, corrosion inhibiting coatings, phenolic or epoxy coatings, heavy gauge steel, "Salvage Drum" identification, gaskets in many types and materials, a variety of high solid paint colors or powder coatings, hot or cold rolled or stainless steel construction.  
Salvage Drums and Overpack Drums
Request more information. 
If you would like a more detailed quote please fill out our Request a Quote form. Or, call (330) 723-6000.