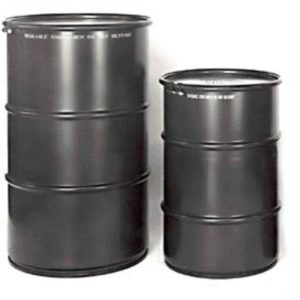 We manufacture the full line of MIL-D-6054 (MS 27683 and MS 27684) and MIL-D-6055 (MS 24347).  These are reusable shipping and storage containers made to military standard specification drawings which were developed by Packaging Specialties and Wright Patterson Airforce Base for severe duty.
Our mil-spec drums are painted in approved paint colors or can be customized to suit your needs.  Drums can be adapted to include many styles of handles, indicators or other customizations as required. Each drum includes a cover with gasket and locking ring.  We supply drums from five inches in diameter to forty-eight inches or more and heights from just under five inches to ten feet or more.  Our drums can be tested for UN Rating or DOT 7A and can be shipped with compliant labels and/or RFID codes. What are these ratings?
Military Drums
Request more information. 
If you would like a more detailed quote please fill out our Request a Quote form. Or, call (330) 723-6000.