Safety is our number one priority. With every metal drum container that we create, we think of all the obsticles it might encounter during transport and storage. Our dedication to the enviornment is top priority! Find out more on our website packspec.com

Posted by Packaging Specialties Inc. on Tuesday, July 9, 2019
When it comes to choosing containers to store and ship your products and materials, it's hard to find a container that is more eco-friendly or sustainable that steel drums. With daily news stories about the plastic pollution plaguing our environment, many have turned a more conscious eye to the materials used in our daily lives. While the most significant focus seems to be on plastic pollution, cardboard is not an entirely desirable alternative, given the resources it requires to create a single-use material. When it comes to packaging containers, the most eco-friendly and sustainable option continues to be steel drums.
The Eco-Friendly Packaging Trend
From drinking straws to plastic bags, our society is becoming much more conscious of how our daily lives are impacting the environment and seeking out more eco-friendly approaches to every aspect of life. This push for a more eco-friendly approach includes the types of packaging and shipping containers that are used to transport the goods we buy and use every day. In today's consumer market, more and more single-use packaging containers are being used, a large percentage of those being sourced with virgin paper, meaning made from non-recycled goods. Single-use, virgin-sourced packaging materials are the least eco-friendly option around. Amazon, which accounts for nearly half of the e-commerce market, is making a big push for its suppliers to come up with more eco-friendly ways to package their goods. In fact, they even provide an incentive to suppliers whose products can be shipped without a secondary outer cardboard box. Amazon's push for more eco-friendly options is driving the packaging industry as a whole, leading retailers to be much more conscious of not only how much but also the type of packaging they are using to transport and store their products. But even the most eco-friendly cardboard, especially those made from recycled paper, cannot stand up to multiple uses.
Why Steel Drums are the Most Eco-Friendly Packaging Option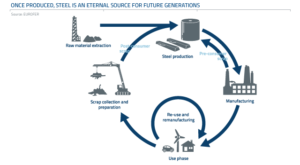 When it comes to determining how eco-friendly a material is, one of the biggest considerations is whether the material is sustainable. Sustainable materials offer environmental, social, and economic benefits while also protecting the public health and environment over their whole life cycle, from the extraction of the raw material until the final disposal. Steel is the world's most recycled product, with more steel recycled in any given year than all the other materials (plastic, paper, glass, aluminum, etc.) combined. In fact, steel recycles forever, with no decrease in its performance from one product to another. Recycled steel is just as durable as originally-sourced steel, which means there's no difference in performance between recycled and virgin-sourced materials like there is with cardboard and plastic.
The durability of steel makes it ideal for transporting and storing goods. Steel is tested to withstand extreme conditions, making it well-suited for multiple uses, which lowers its life-cycle cost. Steel drums can be reconditioned – sterilized with heat or water – to allow distributers multiple uses before recycling the material. Steel drums can even be repurposed in countless ways.
Unlike plastic, the material properties of steel make it ideal for protecting the environment. Steel is considered to be one of the most reliable and safest materials for industrial grade packaging containers. Steel drums, like those produced at Packaging Specialties, are considered to be the gold standard for transporting and storing chemicals, hazardous materials, and even consumables. While plastic drums are more lightweight and flexible, they are not nearly as durable or sanitary as steel drums, making them far less eco-friendly and sustainable.
Contact us today to see how our eco-friendly and sustainable steel drums can meet your packaging needs!